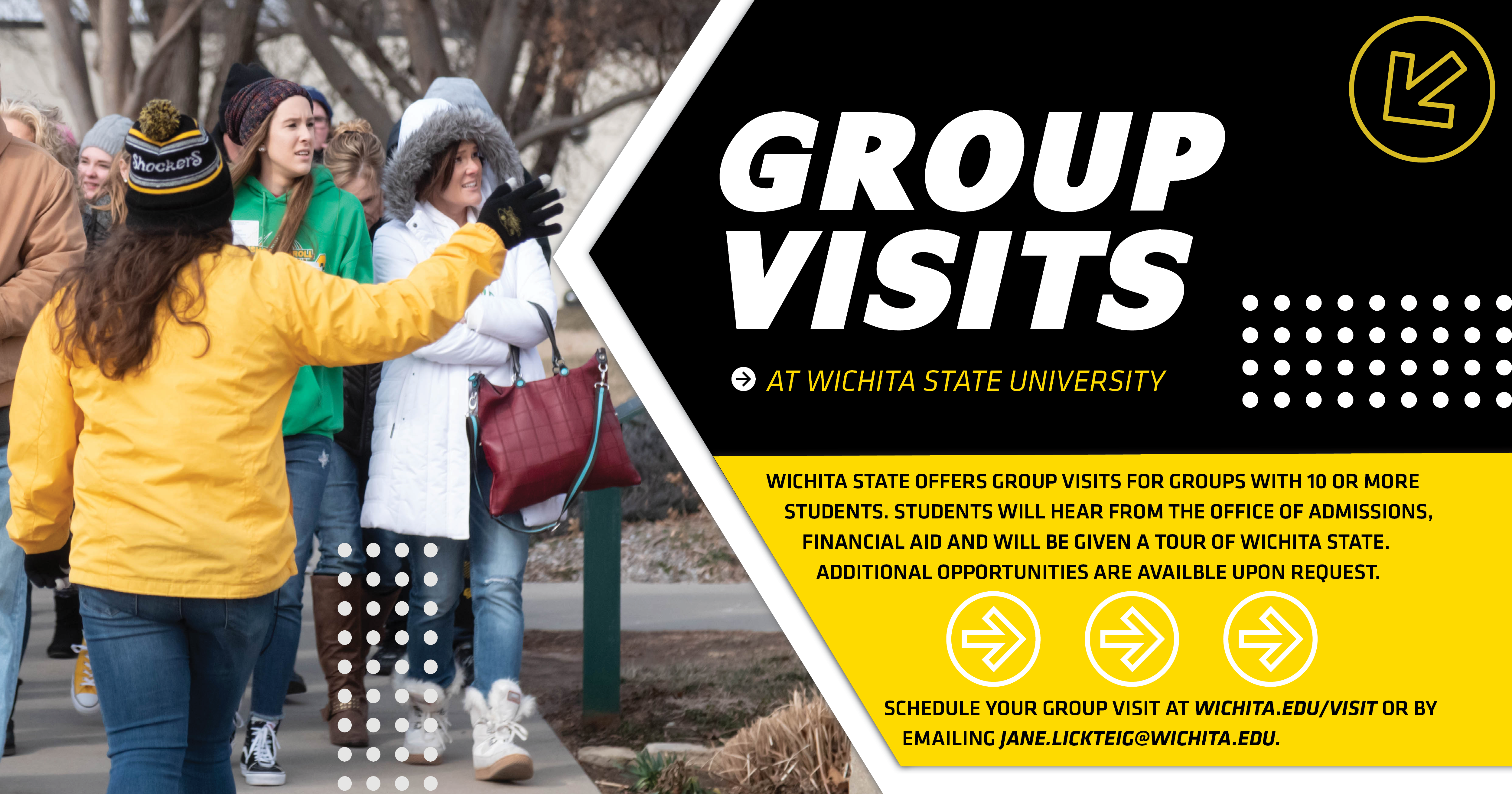 Thank you for your interest in bringing a group to visit Wichita State! Group visits are designed for groups of 10 or more students starting in 6th grade through community college students.
If you're bringing fewer than 10 students to campus, please sign your students up through our individual campus visit program.

On-campus and virtual group visits are available. You can select your preference on the sign-up form.

If you're bringing Kindergarten through 5th 

grade students or are visiting campus and would like to explore on your own, we offer a 

self-guided tour experience

.

Middle school group visits for students in 6th, 7th, or 8th grade are $5 per student, unless your group is a college-readiness program like AVID, TRIO, GEAR UP, Upward Bound, gifted, etc.
Before registering your high school, community college, or middle school group, please review the visit information, tips and guidelines on this page. Once you have selected your visit date, it is on hold and the date and time of your actual visit will be confirmed by an admissions staff member. We look forward to hosting your group on campus!
 TIPS AND GUIDELINES
Group visits include an Admissions presentation and a 60-minute walking tour.

Group visits are not offered on weekends or when the university is closed.

Visit dates are scheduled on a first-come, first-served basis.

Encourage students to wear comfortable shoes, dress appropriately for the weather and bring any gear they feel is necessary for the visit day's forecast.
 

ARRIVING FOR YOUR VISIT
You will receive a final reminder email from the group visit coordinator with details regarding where to check in the day of your visit.

Please plan to arrive 10 minutes early to allow for time to unload students and take care of any personal needs prior to your visit.

If your group is running late, please call us at 316-978-4755. If you arrive more than 15 minutes late, your presentation and/or tour will be shortened or cancelled, as our student tour guides are available based on their class schedules.
Visitor parking is available in any green / yellow lot, and there is an hourly charge to park in the parking garage.
Bus parking is available south of Charles Koch Arena and at Eck Stadium. View a parking map of campus here.
 

LUNCH PLANS
Groups have the option to pay to eat lunch on campus during their visit. Your options include:
Shocker Hall Dining (our cafeteria on campus) has a rate of $9.09 for lunch and it's all-you-can-eat with a lot of variety and food options. Sometimes they offer discounted rates and meal tickets for groups and you can set that up with dining services at 316-978-3477. It might be easier to set that up with them in advance instead of having your students bring money.
The Rhatigan Student Center is great for students who enjoy popular fast food restaurants. We have several popular restaurants located in the RSC including Brkfst & Co., Starbucks, Chick fil a, Freddy's Steakburgers and Panda Express—or you can head downstairs for burgers and daily specials at Shocker Sports Grill and Lanes. Each of the restaurants within the RSC accept individual payment at the register. Please note that due to health concerns, the RSC is currently not accepting cash payments and will only be accepting card payments for the foreseeable future.
 QUESTIONS ABOUT YOUR GROUP VISIT?
Reach out to Jane Lickteig, recruitment events specialist, at jane.lickteig@wichita.edu or call the Office of Admissions at 316-978-4755.
 SELECT YOUR DATE FROM THE CALENDAR BELOW
5 day forecast for Wichita, KS (67260)
Partly sunny, with a high near 82. South southwest wind 9 to 20 mph, with gusts as high as 30 mph.
Mostly cloudy, with a high near 64. North wind 10 to 15 mph, with gusts as high as 21 mph.
A chance of rain showers before 4pm, then a chance of showers and thunderstorms. Partly sunny, with a high near 56. Chance of precipitation is 40%.
Slight Chance Rain Showers then Mostly Sunny
A slight chance of rain showers before 7am. Mostly sunny, with a high near 60. Chance of precipitation is 20%.
A chance of rain after 7am. Mostly cloudy, with a high near 55. Chance of precipitation is 30%.